Unstructured Reviews (1.0)
"Everything was great during our stay. We ordered a queen size room on the second floor. The room that we stayed in was clean and spacious. It has everything in the room that we need, also well equipped kitchen, coffee maker and so on" ...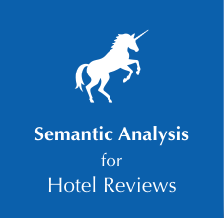 Structured Reviews (Reviews 2.0)

room

great view 59

nice, comfy 38




close to

local attractions 16

nature 12




breakfast

great, tasty 33

free 9




hotel

gem 43

clean 10

renovated 4




fitness

great, well-equipped 13




pool

available, open 8


...

New semantic search filters (B2C)
Semantic Summary out of reviews (B2B, B2C)
1-1 Personalization of Travel Search (B2C)
Improve Machine Learning algorithms
Travel Chatbots fueled by reviews (B2C)
Reviews->Tips Conversion (B2B)
New Analytical Dashboards for reviews (B2B)
Detailed comparison of 2 hotels (B2B, B2C)