Processing machine-translated non-English Reviews
(powered by Google Translate and Unicorn NLP Semantic Analysis for Hotel Reviews)
Our technology is designed from the ground up to process reviews (with spellings, mistakes, wrong usage of grammar, etc.), not proper-grammar texts. Each engine (Semantic Analysis) consists of more than 120 Semantic Models (50+ thousand semantic rules) which describe how to express opinions about places, features, recommendations, personal needs, people, vibe, and more.. Technology is also good enough to process machine-translated reviews/texts (via Google Translate or Microsoft Translate) with its mistakes. This approach provides almost as good results as processing English reviews but we do not have to rewrite deep semantic models into other languages. In consequence, it is much easier to maintain, improve and scale into other languages.
This solution (translating content from other languages and process with 1 English engine) is widely used for companies around the world (e.g. Google, Microsoft, Watson, Medallia) and lately is getting on popularity. It is due to the fact, that:
55-60% reviews are in English,
machine translation services got better and better every year,
on the day 1, you can process 105 languages (with Google Translate),
modifications and improvements are available to all languages immediately,
it is a much more cost-effective solution - time and money spent on scaling on other languages could be used to improve the engine and/or provide new functionalities.
If you would like to check how it works on your non-English reviews, contact us.
We prepared a demo on a small number of 50 hotel reviews in 5 totally different languages to prove it. Below, you will find reviews in Spanish, French, German, Arabic, and Chinese for an example Hotel in Dubai (Hyatt Regency, Dubai - 50 reviews in 5 languages). Reviews were translated by Google Translate and then processed by Semantic Analysis for Hotel Reviews. We achieved state-of-the-art accuracy for machine-translated content:
Precision=91.7%, Recall=71.1%, F1=80.1% for non-English reviews translated by Google Translate.
If the above parameters are not enough for your business, we can prepare specialized engines optimized to correct mistakes of machine translation for any reviews (e.g. Spanish-English version, Chinese-English version, etc.). This approach allows us to improve precision by 5% and recall by 10-15% for selected languages.
---
Hyatt Regency, Dubai - 50 reviews in 5 languages
10 Spanish reviews
"Viaje de novios decidimos ir a Dubái cogimos este hotel, decir instalaciones impecables, muy buen desayuno, una atención por parte de los empleados excelente los 10dias que hemos estado, un hotel muy recomendable para cuando se visite Dubai.Muy agradecido a la atención dada al hotel hacia nosotros toda la estancia, el disfrute de las instalaciones, de este"
...
10 German reviews
"Sehr freundliches Personal, saubere Zimmer, schöne Restaurants im Hotel. Der Service in der Club Lounge ist hervorragend und die dort angebotenen Speisen und Getränke sind sehr gut. Für uns ist das Hotel absolut empfehlenswert."
...
10 French reviews
"Je recommande à 200 % cet hôtel.
Très bon rapport qualité / prix.
Chambre très propre et très bien insonorisée.
Proche de l aéroport et bon petit déjeuner.
Nous nous sommes régalés!!!
Nous retournerons dans le même hôtel pour notre prochain séjour."
...
10 Arabic reviews
"كانت زيارة ممتعه كل شي كان جميلا ووجبة الإفطار متكاملة ومتنوعة وموظفين المطعم كانوا غايه في التعاون والبشاشة خصوصا السيد سعد والسيدة ابريل كانوا مضافين جدا جدا و بشوشين ومتعاونين ولهذا سأكرر زيارتي للفندق ان شاءالله وسانصح به كل معارفي وأصدقائي ."
...
10 Chineese reviews
"在去印度的途中住在這裏。這家酒店的設施都很不錯。他們有一個非常好的遊泳池,可以讓你好好的放鬆。工作人員非常好,而且酒店離迪拜天堂購物中心非常近。你還可以乘坐小船去遊覽参觀,非常有趣。從這裏打車去迪拜機場,大約需要25塊錢,但是如果你從迪拜機場乘出租車到這裏,費用會更高一些。房間又大又舒適。我會在迪拜旅行或過境時再次選擇這家酒店。。"
...

Reviews translated by Google Translate
50 Reviews (translated into English):
"Excellent service and reception from all the staff especially the restaurant staff
I thank the brothers Ahmed and Saad from the Chicken restaurant high ethics and unique service and fast
The breakfast options are many and varied and the taste is unique, especially the fried mushrooms do not miss
I can only say thanks for your service to your guests
"
"It was a pleasant visit, everything was beautiful and the breakfast was complete and varied and the staff of the restaurant were very helpful and cooperative, especially Mr. Saad and Mrs. April were very, very, very warm and helpful, so I will repeat my visit to the hotel, God willing.
"
"One of the best hotels I stayed in and especially my descent on the honeymoon i made good choice all their services above the excellent, it was in my reception the staff Hamada thanked him for his good reception and high morals and the service of breakfast and dinner is very nice, the staff was happy to thank him very much for his good manners and high quality, And all of them are very safe.
"
The hotel is excellent and close to shopping areas and staff at the top of Heake and etiquette front of the hotel Risbashn collaborators Vtaamlna with Egyptian employee thought his name Lutfi gave the impression over the professionalism and understanding of customers and deal with them
"Thank you for the wonderful reception the speed of response and attention to dealing smile Thank you Thank you for brother Mohammed Hamid and brother Essam Labib for their comfort customers and brother Hossam official food on the wonderful service of the highest Leghorn administrative staff outstanding Thank you from the heart of Hyatt Regency
"
"A message was placed at the door of the room that in case of late delivery of the room upon departure, a fine will be fined. This is a wrong method that is not suitable for a 5-star hotel. Unfortunately, most high-end hotels do not...
...
Click to see all input data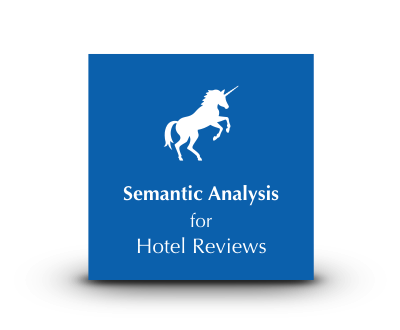 All translated reviews processed by Semantic Analysis for Hotel Reviews
Unstructured reviews become structured, ready-to-use, actionable data.
Analysis based on 50 Reviews. Our API extracted 194 meaningful pieces of information.
The first no-block title (Hotel, Price etc.) is a Category from our API, blue blocks (Bathroom, Payment etc.) are Aspects, green, yellow and red blocks (outdated, well equipped etc.) is the Feature and Polarity (Feature is text, Polarity is (-2 red,-1 yellow, 0 grey, +1 light green,+2 green) color). Displayed piecies of reviews is a Segment field from our API.
You can click on a specific block (Semantic Model, e.g. Hotel - clean) and see only sentences from reviews that contain this specific.
---